19

Sep

2019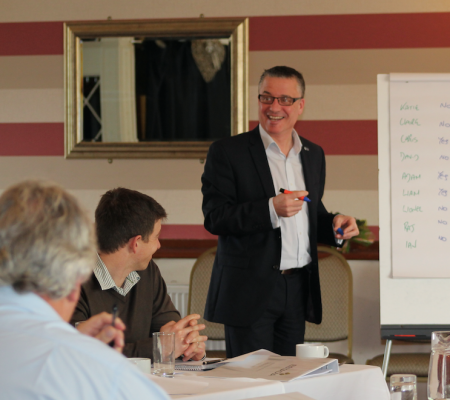 This programme is ideal for all sales professionals, whether you are just starting out on your sales career or you are an experienced sales professional wanting to refresh your skills and learn new sales techniques.  The course is ideal for any business to business sales people and also in business to consumer environments where advising customers on their choices is an essential part of the customer interaction.
As a result of attending this programme, you will understand how to:
• Fully understand and implement a robust and proven sales process.
• Generate greater trust from customers, leading to more open conversations and collaborative selling.
• Present your product or service in such a way that the customer sees purchasing as the logical choice.
• Effectively overcome objections and close more sales.
Delegates have reported a tangible and valuable return on their investment in increased sales.  Motivation and Inspiration are built into this programme! Attendees will come away energised and driven to implement their new skills and start earning more profit!
This is an intensive, one day programme designed to give delegates core knowledge and understanding of the whole sales process, along with confidence and skills to help them set clear, achievable goals within their own sales role. With a combination of classroom theory and practical interactive tasks, delegates can gain insight into how to turn enquires in to profit with a proven, effective method.
Core components:
- Understanding Sales Measurement
- Sales Motivation
- The Full Sales Process, comprising:
Meet and Greet - Creating relationship and trust. Setting up the foundations for the sale.

Qualification and Need Analysis - Understanding your customer's needs, wants and desires.

Presentation - Effective presentation of your product or service, in line with the customer's needs.

Trial Close - Gaining commitment and understanding.

Negotiation - Price presentation and creating a win/win price agreement.

Close - Creating the environment in which the customer can say 'yes'.

Overcoming Objections - Objection prevention and handling strategies.
The delegate will create an action plan for the implementation of their new skills and techniques at the end of the course. This plan will be shared with their management, to ensure an effective follow up of the programme is completed.
This course is delivered by Suretrain Sales Training.
Previous delegates have said:
"We sent experienced account managers on this sales training course. All returned with positive feedback and are applying new methodologies to their client base. We will be using them again when a customer facing sales course is required." - JC, Devondale LTD
"Being relatively new to sales, the course has taught me a lot in regards to how to have and informative discussion in order to accommodate my clients' needs." - HG, IMSM
"Richard delivered this course for our experienced sales team. During the following 4 months, our average invoice value per unit went up by 23.39% and our unit sales increased by 8.69%, all compared to our results from the previous 12 months." - RW, Clarity Copiers